Crowded House: Farewell to The World
Breaking up is so hard to do. By Tim Rumble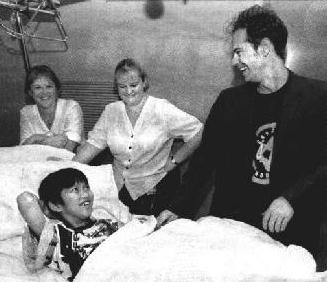 CROWDED House warmed up for their farewell concert, now changed to tomorrow night, by warming patients' hearts at the Sydney Children's Hospital yesterday.
Children, parents, hospital staff and friends crammed into the hospital's auditorium to see the group's second last gig.
Starting the acoustic concert with Something So Strong, Crowded House soon threw away the schedule, taking requests and even strumming a few lines of a Midnight Oil song.
Drummer Paul Hester, who has reunited with the band for the farewell, joked with the children. But his smile turned to tears after he was introduced to Alice Waterman, 3. Hester told the long term patient to "keep on rocking", before rushing out with moist eyes.
His reaction summed up the band's underlying feeling. "It is a bit teary, but we will just have to collect ourselves and remember we will have the opportunity to play together again," bass guitarist Nick Seymour said.
Proceeds from tomorrow's concert, postponed because of bad weather, will go to the hospital's foundation.
Australian Daily Telegraph - Sat 23rd Nov
---