Crowded House: Farewell to The World
Crowded out by take-away laughs - By Nui Te Koha - Photo George Salpigtidis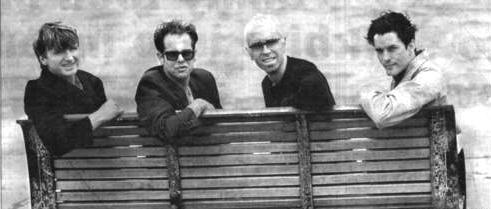 It will end pretty much as it began: with a lot of laughs.
Crowded House - one of this country's most successful pop exports - re-assembled in Melbourne yesterday to start rehearsals for its last gigs.
And as usual - as with any Crowdies gathering - it was a race to get the first joke through. Paul Hester, drummer and Elwood Beach cafe owner, won - oddly enough, talking about the rigours of making take-away snacks.
"It's a tough gig ... a few day's work as opposed to two hours on stage ... a few sandwiches," Hester said. "And at the end of the day, I've got four or five dollars in my pocket." That is, as opposed to the $20,000 in the bank after a Crowded House gig. From there, Hester led the charge of the light-hearted brigade, keen for the disbanding Crowdies to leave a room full of smiles.
Does he want a congratulatory phone call from the Prime Minister after the final gig? "No, I don't want to be aesthetically linked to Johnny!" But he's a battler, someone offers. "He's the same height as a battler! Front man Neil Finn split from the band in July was philosophical about the impact of the band's music. "I think we garnered respect and we carried ourselves realistically," Finn said. "We didn't become swallowed up by the seriousness, hoopla and hype of the business. We always wanted to undercut it with a bit of reality and humour."
Finn is working on a solo project, Nick Seymour (bass) has joined local band Deadstar, Mark Hart (keyboards) will return to his home town Los Angeles, and Hester owns a cafe and recording studio. "I'll be bulls .... ing about doing a solo album for the next 10 years," he said.
Crowded House will play warm-up gigs in Melbourne tonight and tomorrow, then a final show on the steps of the Sydney Opera House on Saturday.
The Herald Sun - Wed 20th Nov 1996
---